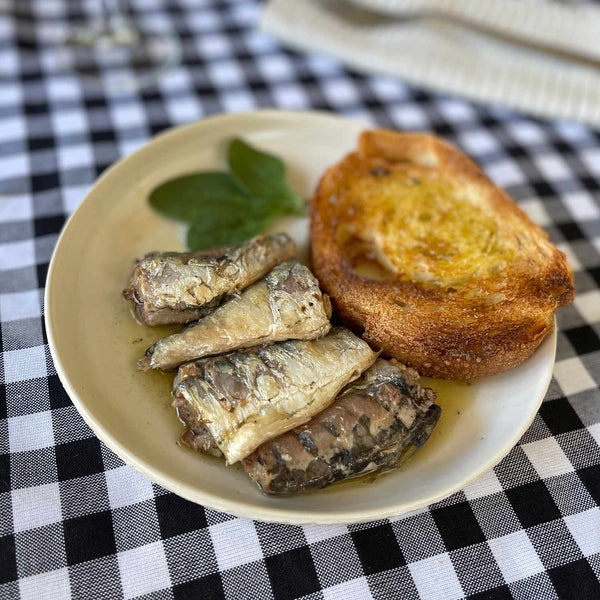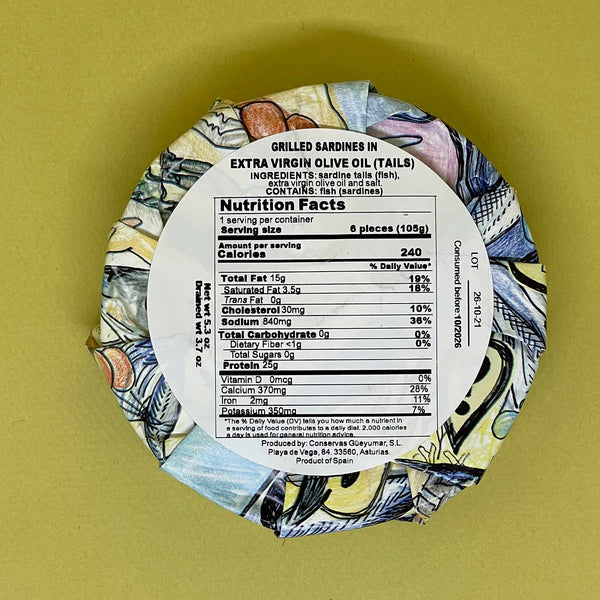 Güeyu Mar Chargrilled Sardine Tails
Regular price
$20.99
・ Large sardine tails chargrilled with holm oak, canned in Arbequina de Castillo de Canena Extra Virgin Olive Oil.
What's inside?
(150gr) Sardine tails from Asturias and Rias Baixas depending on the season. They are roasted with oak wood and kept in extra virgin olive oil Arberquino de Castillo de Canena, a high quality and smooth oil that does not detract from the sardine.
INGREDIENTS: Sardine tails, extra virgin olive oil and salt.
Nacho Valle,
Lata Shop Expert
"The classic sardine conserva but Güeyu Mar style. They are lightly chargrilled before being beautifully placed by hand inside the tin. These are large and meaty cuts of sardines with great natural flavor and a touch of smokiness."
Vicent Sendra,
Lata Shop Expert
"My favorite way to eat them is to prepare a base of thin slices of tomato and very finely minced garlic, drizzle it with the sardine oil as a dressing and place the sardines on top. Remember not to add too much salt as the sardines already add saltiness to this wonderful salad."
Reviews
Why Lata
We are a group of friends from Spain living in the United states that share a passion for canned food and miss it so much that decided to source the best products from Spain.
Top Quality
We selected the best canned food available so you don't have to. We will keep sourcing and adding only the best of the best.
Good For You
High levels of valuable omega-3 fatty acids, which are important for your overall health and wellbeing. Some of our products like sardines and the bonito are rich in protein and low in fat,
Good For The Planet
The canning process locks in nutrients when the food is at its ultimate freshness. Further, canned foods are environmentally friendly because the metal used in containers is the most recycled material