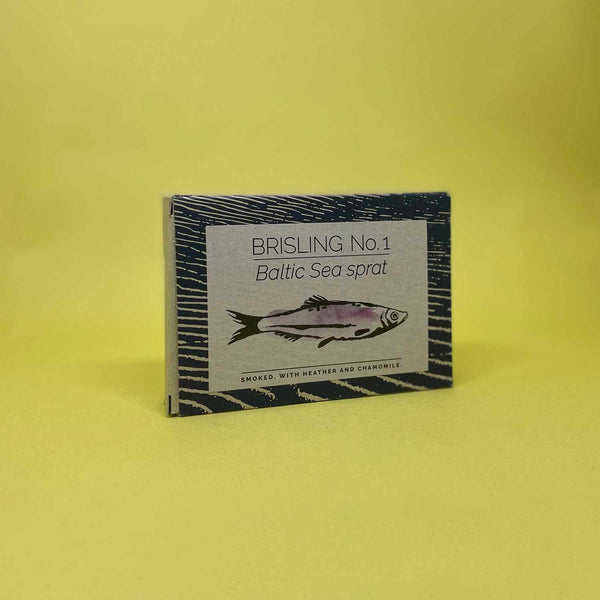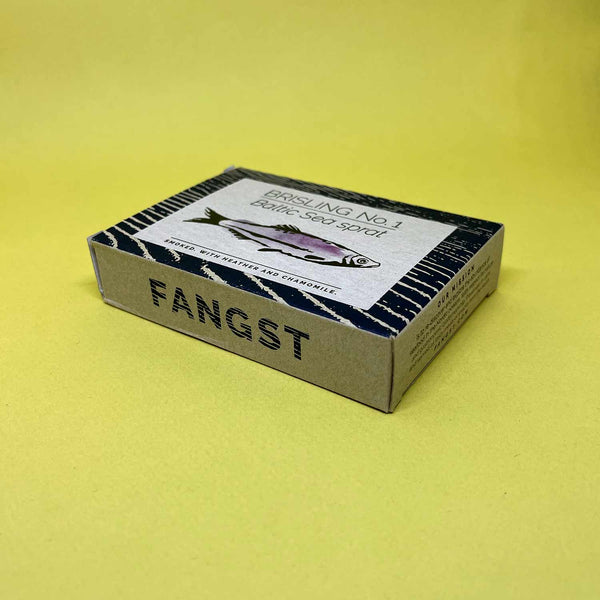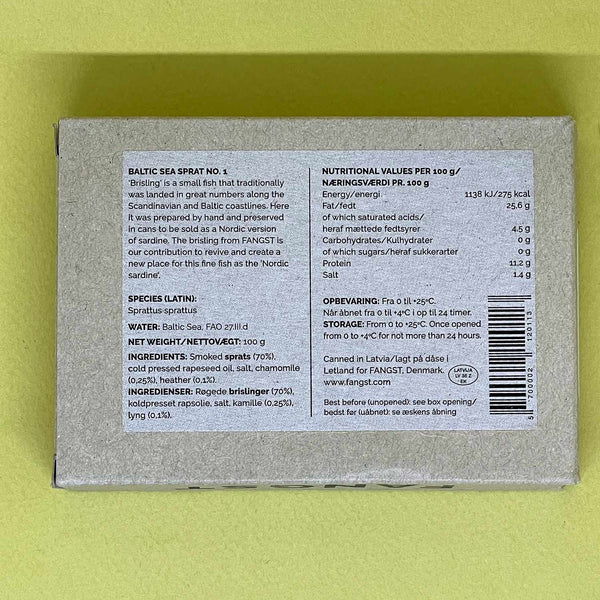 Fangst Brisling No. 1 Baltic Sea Sprat Smoked with Heather & Chamomile
Regular price
$8.99
・ Sprat, also known as Brisling, is a small and fatty fish, typical along the Scandinavian and Baltic shores. Gently smoked and packed with aromatic heather and chamomile, this is Fangst's special offering of a "Nordic sardine."
What's inside?
(100gr) Brisling is a small traditional fish from along the Scandinavian and Baltic coastlines. In a new sustainable approach, this humble fish is being revered as the Nordic version of a sardine, prepared by hand and preserved in tins with local herbs.
INGREDIENTS: Smoked sprats, cold pressed rapeseed oil, salt, chamomile, heather.
Nacho Valle,
Lata Shop Expert
"Fangst is on a mission to reconnect with the long Nordic fishman tradition and evolve the conserva culture there, while also being devoted to conservation. They are referencing back to the ancient gastronomical principle that a culture's most characteristic food comes from the product that the fishermen and butchers cannot sell. They are treating the humble sprat with reverence and care, hand preparing and packing them as a prized sardine, and it is delicious. "
Vicent Sendra,
Lata Shop Expert
"The smoky flavor and their characteristic size and texture make them a perfect pairing with milder flavors. For example, thin slices of tomato and mozzarella on a slice of toasted white bread and drizzled with the tin's oil at the end is a delicious option. "
Reviews
Why Lata
We are a group of friends from Spain living in the United states that share a passion for canned food and miss it so much that decided to source the best products from Spain.
Top Quality
We selected the best canned food available so you don't have to. We will keep sourcing and adding only the best of the best.
Good For You
High levels of valuable omega-3 fatty acids, which are important for your overall health and wellbeing. Some of our products like sardines and the bonito are rich in protein and low in fat,
Good For The Planet
The canning process locks in nutrients when the food is at its ultimate freshness. Further, canned foods are environmentally friendly because the metal used in containers is the most recycled material