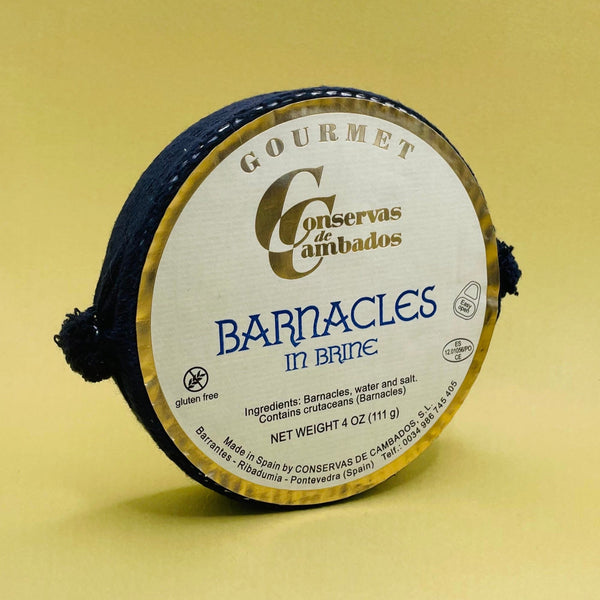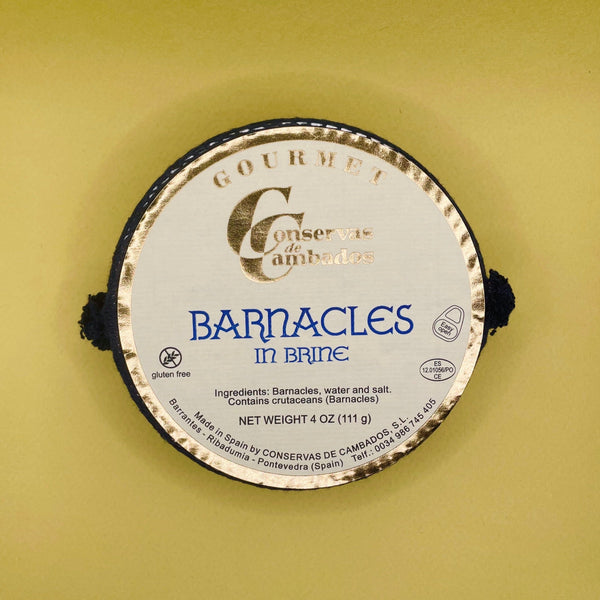 Conservas de Cambados Barnacles in Brine
Regular price
$29.99
・ A rare and exquisite delicacy. Hand-harvested in Galicia. Canned fresh near the source, fresh seafood flavor.
What's inside?
(111gr) Percebes are one of most spectacular types of seafood in Spain! They are briny and fresh. Each one is harvested by hand with a knife from treacherous wave-battered rocky shores of Galicia. Foragers dash between giant crashing waves to cut away a small handful of these precious barnacles, a very dangerous endeavor indeed.
INGREDIENTS: Barnacles, water and salt.
Warning: California's Proposition 65 -  Cancer and Reproductive Harm.
Nacho Valle,
Lata Shop Expert
"We are so excited to include barnacles in our store. Percebes are something you typically only find fresh. When I saw them canned for the first time a few months ago, I had to try them. And they blew my mind. They come ready to eat, just add a bit of lemon. For something special over Christmas, I paired them with a sweet vermut jelly and they were a hit. It's a taste of the sea in your mouth."
Reviews
Why Lata
We are a group of friends from Spain living in the United states that share a passion for canned food and miss it so much that decided to source the best products from Spain.
Top Quality
We selected the best canned food available so you don't have to. We will keep sourcing and adding only the best of the best.
Good For You
High levels of valuable omega-3 fatty acids, which are important for your overall health and wellbeing. Some of our products like sardines and the bonito are rich in protein and low in fat,
Good For The Planet
The canning process locks in nutrients when the food is at its ultimate freshness. Further, canned foods are environmentally friendly because the metal used in containers is the most recycled material