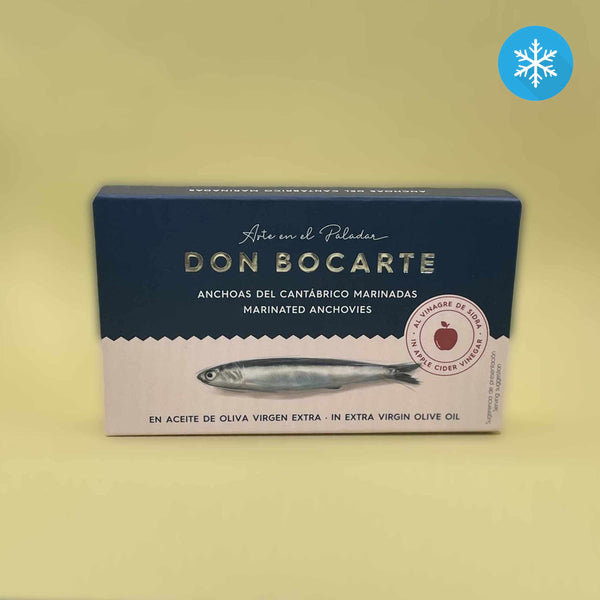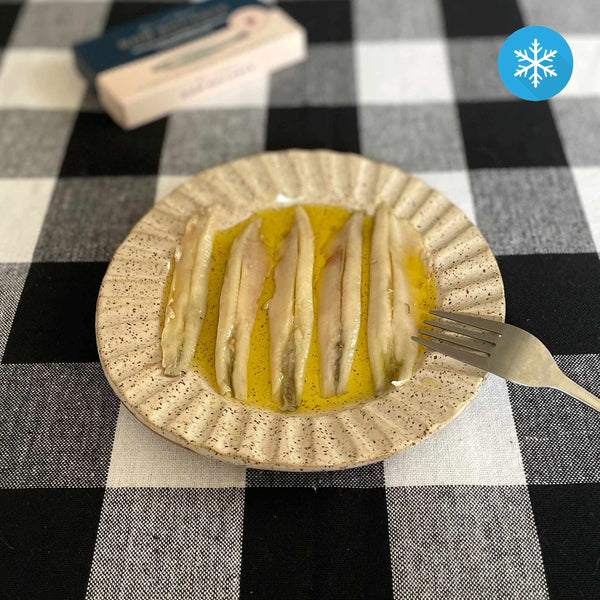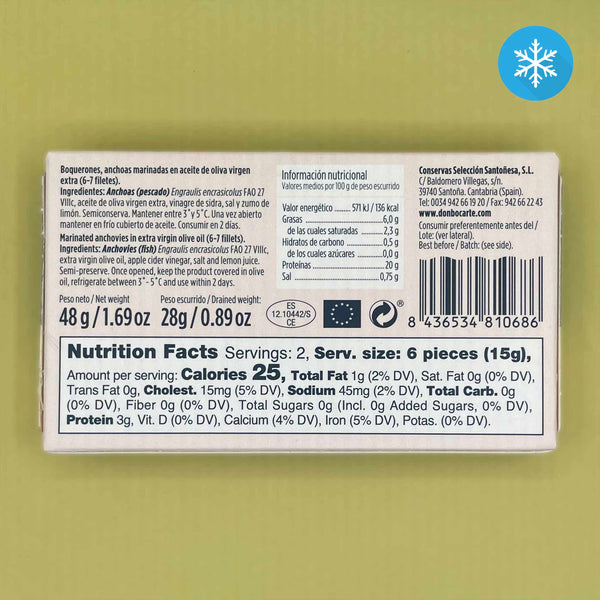 Don Bocarte White Anchovies (Boquerones) in Apple Cider Vinegar
Regular price
$9.99
・ Fresh cured white anchovies marinated in apple cider vinegar, extra virgin olive oil and spices. Curing the anchovies without salt leaves the filets with a creamy, tender and meaty texture.
What's inside?
(48gr) Marinated boquerones (white anchovies) from the Gulf of Biscay, in apple cider vinegar. 12 Filets, excellent flavor and delicate texture. Wild-caught in Northern Spain. Packed by hand.
INGREDIENTS: Anchovies, Extra Virgin Olive Oil, Apple Cider Vinegar, Salt & Lemon Juice.
This product is semipreserved, and should be kept cool during storage.
Coming back in the fall. 
Nacho Valle,
Lata Shop Expert
"Boquerones are used in a traditional tapa in the south with olive oil, olives and parsley. Pair it with a salt-cured anchovy and lay them on top of a piece of toast, we call this a "matrimonio" (marriage) and it's a typical tapa from Murcia. Or eat them at room temperature with olives, potato chips, or breadsticks as a snack."
Vicent Sendra,
Lata Shop Expert
"These anchovy filets are much larger and plumper than most boquerones on the market and offer a full, rounded eating experience. But the most striking thing that sets these anchovies apart from the others is the cider vinegar, it gives it a sweet touch that makes them irresistible."
Reviews
Why Lata
We are a group of friends from Spain living in the United states that share a passion for canned food and miss it so much that decided to source the best products from Spain.
Top Quality
We selected the best canned food available so you don't have to. We will keep sourcing and adding only the best of the best.
Good For You
High levels of valuable omega-3 fatty acids, which are important for your overall health and wellbeing. Some of our products like sardines and the bonito are rich in protein and low in fat,
Good For The Planet
The canning process locks in nutrients when the food is at its ultimate freshness. Further, canned foods are environmentally friendly because the metal used in containers is the most recycled material